Trust yourself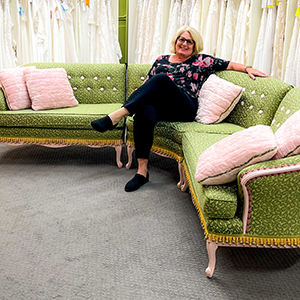 Western is proud to claim Debra Lash as a graduate—so proud they selected her as the 2007 Distinguished Alumni. However, that's neither the end nor the beginning of her story.
Lash is a small business owner for over twenty years; she has been on the DMI board and has served as both president and executive director. She's been on Western's marketing advisory committee for 30 years. Lash is a staunch believer in a vital downtown and a thriving small business climate—every healthy community, village, town, and city should have one. La Crosse's downtown development is a story of belief backed by vision, hard work, long hours, and a relentless push for collaboration and solving problems.
Lash grew up in the area. Her high school job was at the Viroqua Hardee's, which proved to be a great launching point. She also tried door-to-door vacuum sales. As a single parent making ends meet, she decided she needed more schooling, and Western was perfect.
Equipped with a Western marketing and retailing degree, Lash searched for a downtown business to buy. The only contender was the Wedding Tree—far from an expert at weddings, she decided to give it a go.
Initially, the Wedding Tree was on 4th Street in the Def Ear location. Lash was able to get a deal on rent by promising not to sell tuxedos. One of Lash's first duties as new owner was to call customers and ask what they liked and what they would change about their store experience. It was clear that she needed to sell tuxedos, too. She agreed not to sell menswear in her current location, so she took out another loan to buy the historic Main Street building!
The newly acquired building was the impetus for all future growth. This building became an essential part of the brand. For years, everything was invested back in the building. The second floor houses all things bridal; the first floor is for prom, bridesmaids, and mothers. The third floor, which was the YMCA basketball court, was converted into a breathtaking event space—the perfect place to get married. The event space is another branch of the business called the Court Above Main. The Wedding Tree is a full-service bridal boutique in a one-of-a-kind historic and beautiful setting. Lash's vision of a Building of Love is complete, but continuously improving, of course.
Lash invests in her employees, too—wedding planning certifications and business training of all types, Lash knows the business is in good hands at all times. Conducting business for over two decades prompted Lash to update her service motto, "The customer is not always right," a refreshingly honest take and a nod to how much she trusts and cares for her employees. Lash plans on selling the business to one of them someday.
A gift for sales and a talent for public relations, Lash credits Western for her business acumen. The quality instruction left a lifelong impression on Lash. She states that she learned her soft skills in a sales class. But really, she has a sense with people—she's observant, empathetic, and exudes a trustworthy aura. She is a tenacious advocate for women and trusts her ethical sense. Debra Lash is a true gift to Western alumni and our greater community. Lash is still deciding what she is going to do next. Deb Lash is essentially Western.