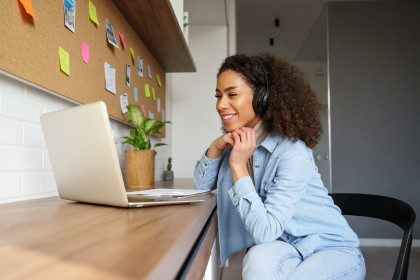 To mark National Distance Learning Week, November 9-13, Western is providing students with critical tips to help overcome the challenges of remote learning.
When there isn't a set time that an online class is meeting, it can, unfortunately, be easy to delay the course work. Create a schedule to help management your time and achieve your goals for each class.
Some of your online classes will have recorded audio and/or video content. To aid in your ability to engage with that content, create an environment in your learning space that is conducive to listening.
Take notes during a live or recorded online lecture. This can help you focus and serves as a good way to review the content that is shared in the lecture.
Be an active participant in the course. There will be opportunities to engage in some interactions with your classmates and your instructor as part of discussion boards, video chats, emails, and other tools. Being an active participant will allow you to learn and retain the content.
Sometimes, as online learner, it is helpful to reenergize. When sitting for a long period of time in front of a computer we might need to remind ourselves to stand up, stretch and move around for a few minutes.
As always, reach out for support if you need it. This is a challenging time for everyone, but you're almost there! Contact the Learning Commons for assistance with math, writing, health science, tutoring, and more: www.westerntc.edu/learning-commons