Searching for Sustainability: How Western is Doing its Part for the Climate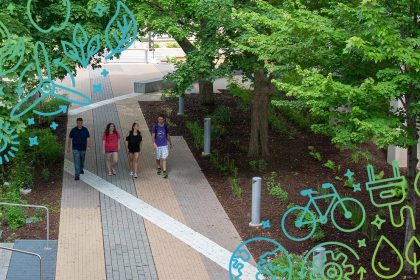 As you read this, tens of millions of people are facing the impacts of harsh storms, raging wildfires, and dangerous droughts. It's not just a global climate crisis – it's a human crisis. Current headlines treat climate change as if it were a recent development, but scientists have been researching its connection to human activity since the 19th Century.
Western knows that humans can have just as big an influence to shift the tide in the opposite direction. Our mission began in 2007 when Western signed the President's Climate Commitment. This sparked an ongoing effort to address our contribution to global warming. What have we been up to? Here are some examples of the work we're doing.
Sustainability Efforts.
Sustainability is the act of building – through our daily practices and educational programing – a thriving, resilient, and just community now and for the future.
More Power for Less – Western's four photovoltaic systems produce about 1.1 gigawatt hours of renewable energy each year – about the same amount of energy used to power 100 houses.
Certified Sustained – Nine buildings are LEED Silver certified or higher – that includes our award-winning LEED Platinum Integrated Technology Center.
Energy Conservation Management Program – We have successfully encouraged students and teachers to turn off computers, monitors, appliances, and lights, and find other ways to conserve energy in all buildings when not occupied.
Our efforts are more than just surface-level. They're rooted deeply in who we are.
On-Campus Events – Annual events like Bike-to-Work-Week, Horticopia, and the campus-wide Eco-Challenge bring sustainability to students, faculty, and the general public.
Educational Courses – From Building, Science, and Energy Management to Landscape Horticulture Programs – we prepare students for work in the green-collar economy.
And we're just scratching the surface.
Our efforts reach beyond campus and into the community.
Downtown La Crosse is a green-thumb community thriving on the Mississippi River. It hosts several friendly faces working together to improve sustainability. Many businesses also contribute to the effort – we seek ideal partners to explore ways of expanding education about sustainability.
The Power of Partnership
Western has developed a partnership with Dairyland Power to give students a hands-on learning tool. This is through Independence Solar Panels. They provide renewable power to Dairyland as well as act as an educational tool for our students to learn about solar energy.
Join Western Technical College to map out a better future – for you and the planet.
To see what that looks like, check out Western's sustainability map.