What Sets Western Technical College Apart from Other College Options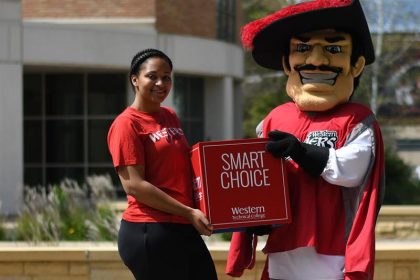 Ready to start the next part of your career path? There's perhaps no better place to kick things off than Western Technical College. And sure, we may be a bit biased, but the evidence speaks for itself—Western is a truly outstanding place to start when it comes to affordability, flexibility, diversity of program options, and enjoying your surroundings.
Let's dive into what makes Western such a special campus to earn your cred.
Business Connections
One of the most powerful things that sets Western apart from other post-high-school opportunities is the relationship the college has with regional businesses and organizations. Why? Because carrying that Western degree, diploma, or certificate comes with a positive association that looks great on a future résumé! Not only does Western's team of instructors work directly with area business leaders to develop curricula for the classroom, but they also bring said leaders into the classroom to connect one-on-one with students on hands-on training and service-learning opportunities—unmatched collaboration among the region's higher ed options!
Find out more about Western's relationship with the business sector in the La Crosse region here.
Wealth of Scholarships
Every higher ed institution worth its salt offers up scholarships to capable, talented students, but Western takes it to a whole other level. With 500-plus opportunities made available to students, the college is also connected to the Western Technical College Foundation, offering up program-related funding and direct access to other local and regional organizations looking to help pay for the schooling of Western's next set of graduates. Not to mention, the application process is simple and easy—submit one app to the Foundation, and you're all set to determine your eligibility for a host of grants and scholarships!
Get the lowdown on everything Western offers by way of scholarships here.
Apprenticeship Opportunities
One of the best ways to learn a trade is to do it right alongside those who do it best. Since this mentality is firmly at the heart of most everything we do at Western, apprenticeships play a big role in our best and brightest students' future-planning. Including hands-on experience in plumbing, tool and die, metalwork, electrical, and much more, tradespeople need look no further for exposure to the best in their fields thanks to the apprenticeship programs at Western.
Find out how being an apprentice could be a game-changer for your career plans here.
Unmatched Flexibility
We all have busy lives, jobs, families, friends, and much more that occupy our everyday, so it should come as no surprise that Western places a high value on flexible learning opportunities for those with schedules to maintain. There's no one way to go to Western—we offer in-person, traditional classroom settings, as well as hybrid, interactive distance and online learning. What works for you, works at Western. And we pride ourselves on ensuring the experience in the classroom is no different than virtual education—same instructors, same curricula, same Western experience.
Investigate your options for learning at Western Technical College here.
Thriving Downtown
So what about campus life? The city of La Crosse happens to have a vibrant, thriving culture that makes stepping away from campus for a weekend or an afternoon more than worth your while. From outdoorsy outings in the picturesque La Crosse countryside to shopping, nightlife, and arts opportunities in the downtown area to festivals and seasonal activities, there's no shortage of enjoying the urban and rural match made in heaven that is western Wisconsin.
Ready to dig into your Western journey? It's time to apply—we can help with that.