A Guide To Making The Most Of An Advanced Manufacturing Degree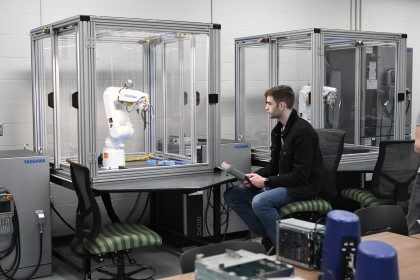 Today, manufacturing is a cornerstone of the American economy. According to the National Association of Manufacturers (NAM), manufacturers in the United States account for 11.39 percent of the total output in the economy, employing 8.51 percent of the total workforce. It's a field that helps our country grow, encourages innovation and provides valuable opportunities for employees. A degree in advanced manufacturing can truly take you the distance. If you're interested in advanced manufacturing, there are a few things you should know.
Here's how to make the most of an advanced manufacturing degree.
Manufacturing Is a Stimulating Field
There are plenty of benefits that aren't so obvious to those outside of the field. If you enjoy a stimulating industry, then advanced manufacturing is made for you. Studying this field can help you acquire an attention to detail and build critical thinking and communication skills.
Increase your active problem-solving skills while anticipating future situations. Advanced manufacturing is all about finding solutions and increasing hands-on skills. Students learn best by doing, and Western ready to teach you these skills.
Practical Employment
Advanced manufacturing offers high hourly wages, an average of $28.85,  as well as a variety of work. It's perfect for those who enjoy learning how things work and how things are made. Career opportunities are truly endless. Advanced manufacturing is practical in more ways than one would think. The manufacturing of today is a clean, safe and resourceful field.
Plenty of Opportunity & Options
With an advanced manufacturing degree, you're able to work in multiple sectors. Developing the right skills can help you work in several manufacturing industries. Plus, opportunities are quickly getting bigger. Automation, robotics and information technologies are all growing fields of work. There's a large need for workers with these skills.
If manufacturing succeeds, our whole country will succeed. So, as manufacturing changes, we too need to change. Learn the skills needed to enter this growing field. At Western Technical College, the advanced manufacturing opportunities are vast. Study anything from cabinetmaking to electromechanical technology. Students may design, install, operate, maintain or repair systems within the advanced manufacturing environment. This career field also provides a host of leadership and management opportunities. Learn theory and get the hands-on experience you need at Western. Check out all of our advanced manufacturing programs here.