Western Technical College's volleyball team has had a busy week as the team approaches the final stretch of the regular season.
The Cavaliers defeated Viterbo's JV squad in five sets last Tuesday, Oct. 9 (25-17, 25-6, 23-25, 23-25, 15-10). Jamie Schultz led the team with 17 kills. Kierstin Weiland led the Cavaliers with 22 digs. It was Western's first victory in a five set match this season.
Western was defeated by Minnesota West in four sets the following evening, Oct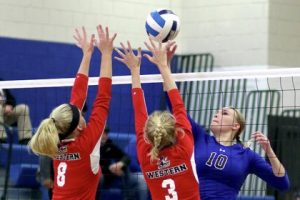 . 10 (25-21, 19-25, 25-23, 25-12). McKenna Nehring led the team with 13 kills and 17 digs. Macy Mau also contributed with 17 digs.
On Saturday, Oct. 13, Western played a triangular with Dakota County Technical Colege and Ellsworth Community College at home. The Cavaliers lost to Dakota County in four sets, and defeated Ellsworth in four sets. No other stats were provided.
The stretch puts Western at 1-6 in conference and 5-10 overall. They next play Anoka-Ramsey CC on Wednesday (Oct. 17) at home at 6:30 p.m.
Stay with the News Center for all of the updates on Western's athletic teams!