Season Preview: Volleyball
We apologize being a few days late with this, but here is our preview of Western's volleyball team!
Western volleyball assistant coach Rachael Sackett has plenty to be positive about as she watches her team warm up.
"We've only had three practices to this point," she cautions. "But we have some nice players this year, nice athletes. We have stepped up with the athleticism this year."
That athleticism will be needed, especially in the Minnesota Collegiate Athletic Conference (MCAC). Rochester Community and Technical College and Anoka Ramsey will prove tough again this year. In addition, the conference is down a member – Riverland Community College – due to low numbers.
"It was a really good game with us, we were competitive with them (last year)," said Sackett.
The Cavaliers are coming off a 3-19 season last year, with a 2-12 finish in conference. Western, like all other two-year colleges, face a unique challenge every year. Turnover is common, as many athletes change programs or transfer to other colleges or universities. For Western, only two players are returning to the team from last year.
One of those returning players is Jamie Schultz.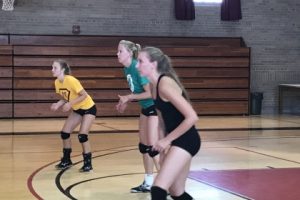 "I like being a leader, but it's tough," she states.
She notes that it is difficult assembling a new team from scratch, but adds that it can be a positive experience.
"You really get a bond more quickly than others," she said. "It's really awesome meeting new people all the time."
The can-do attitude from Schultz has caught the attention of her coaches. Last year, Schultz contributed with 73 kills, 120 digs, and 36 blocks.
"She's just a strong player with a positive attitude," Sackett said. "Our passing looks a lot better this year, a lot stronger than it has in the past years. We can do a lot more with the offence this year with a strong pass."
Both Sackett and Schultz know with the tough schedule, the season will be a grind. Non-conference match ups include matches with Viterbo, Emmaus Bible College, and Milwaukee Tech.
"We just hope to be competitive in many games," Schultz said.
"It's good for us," Sackett added. "It's going to be very challenging."
Despite that uphill climb, Schultz says that adding athletics to a student at a technical college can be a powerful experience.
"It's such a great opportunity. The technical colleges are a neat way to step into an athletic role," Sackett said. "The time commitment is much different. We try to be flexible with their schedule. It really teaches them time management. My hope is these girls have created friendships at the end of the day."
The Cavaliers play home matches at Holy Cross Seminary Gym, 3710 East Avenue South, La Crosse. For a full schedule and scores, head to www.westerntcnews.org.