Journeys Of A Western Student Abroad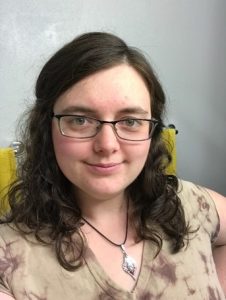 This summer, we will highlight one Western student traveling abroad as she travels to Austria. Enjoy!
Hello from Salzburg, Austria!
"That's odd," you might be thinking, "why would someone from Austria be in Western's student newsletter?"  The answer is simple, I am a Western student doing study abroad in Salzburg.  My name is Bel, and I actually live in Onalaska.  I've attended Western since the Fall 2016 semester.  I'm wrapping up the ASLA program this summer with three credits at Salzburg College and three credits at Western.  You might have seen me around; while at Western I've worked in the Foundation, been a part of numerous groups including Phi Theta Kappa and Alliance for Equality, and have been on campus almost every day.
I've always dreamed of traveling.  When I saw the signs for study abroad information meetings with Linda Duffy, I attended them.  She explained to me that Western was piloting a new kind of study abroad: last year the study abroad club was founded and went on a ten day trip to the United Kingdom, this year the options had expanded to taking classes for credit in various countries around the world.  Of the seven options (along with seriously considering Ireland and India, I could have chosen Costa Rica, England, or France), I narrowed it down to either going to Spain or Austria.  It was a difficult decision, but I ultimately chose Austria for the mountains and the course options.  Eventually, I settled on taking Economics and Politics of the European Union.  My first day is tomorrow!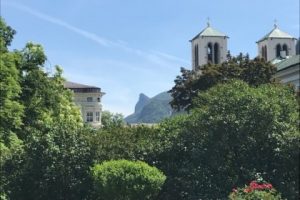 You're probably thinking, "Isn't this expensive?"  And it is, don't get me wrong,  but I applied for scholarships and had fundraising opportunities to drastically decrease my costs, and because I'm taking credits my financial aid helps out.  The program runs for three weeks, and in addition to the class and credit hours I will be going on an excursion almost every day with my group, all included in the cost.  There were longer spring and fall options as well, but they didn't fit with my timeline.
Enough of the background information, what is Austria like?!  Well, I can't tell you about all of Austria, but I can tell you that Salzburg is beautiful.  You know how some words like "beautiful" or "awesome" get overused and start to lose their meaning?  This isn't like that.  Every time I turn a corner, there's a mountain, or a building with intricate architecture, or the river.  The river Salzach flows through Salzburg, and it is jade green.  It runs northwest, which is strange to me because I'm so used to the Mississippi River running south; it feels like the Salzach flows backwards.  People fish or boat or sit in the grass on its banks, but don't swim in it.  I assume because it has a fast and strong current, but I haven't asked a local to confirm that yet.  Interestingly, it has the same geese and mallard ducks that we see in Wisconsin.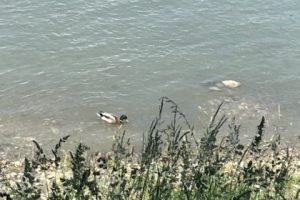 I have a historic walking tour planned with my class, so I haven't sought out the history of the city.  However, I've spent three days here on my own, and have gleaned a little information.  Salzburg is the birthplace of Mozart and Christian Doppler, who discovered the Doppler Effect we learn about in science classes.  Most of the city survived World War 2 intact, making it one of the best surviving examples of Baroque architecture.  The river flows from a glacier in a nearby mountain.  "Salz" means "salt" in German, and salt was mined in the mountains and sent down the river causing it to be named Salzach, and the city that was here was eventually renamed Salzburg.  It is the home of The Sound of Music.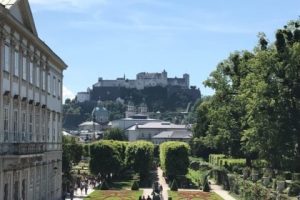 Because I had never seen The Sound of Music in its entirety and it had been many years since I had seen the beginning, I resolved to watch it.  While I was looking for things to do in Salzburg these first days, I found out the Salzburgur Marionettentheater, or Salzburg Marionette Theatre, would be playing The Sound of Music on Friday, May 25.  "That's perfect," I thought to myself.  I had also never seen a professional puppet show.  The theatre is a UNESCO heritage site, and the oldest surviving and longest running marionette show.  I also got a student discount through an international student travelers card that gives me deals all over the world (including the US, I used in it Chicago earlier in May.  It's called ISIC, if you're doing any traveling while you're a student, you should check it out).  After admiring the architecture for a bit, the show started.  At first it was strange, because the puppets would bobble as the actors behind the curtain spoke or sang, and it was difficult for me to keep track of who was speaking.  After the first five or ten minutes, I got used to it and really began to enjoy the show.  The puppets are hand made, and each "costume change" for a character is actually a separate puppet.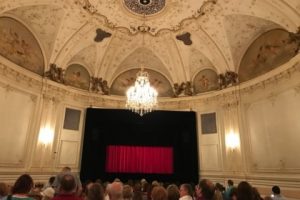 I was really impressed with the intricate movements each puppet made, and how well all the puppets interacted without tangling up together.  These really are professionals, and I very much enjoyed the show.
Getting to the theatre was another matter.  In fact, getting to Salzburg was a bit more than a hop, skip, and a jump.  I left on Wednesday morning, drove to Chicago, waited in the airport, flew to Toronto, waited in the airport, flew to Munich, waited in the airport, caught the train to Salzburg (which involved a connecting train and waiting in the train station) and 28 hours after I left home I checked into my first ever hostel.  Because it was only 2 p.m. Salzburg time (and they only use military time, so it was 1400), I resolved to fight the jet lag and get a little exercise.  I made it as far as the supermarket down the block where I bought some food, ate it in my room, and fell asleep for 14 hours.  But I woke up refreshed on Friday morning.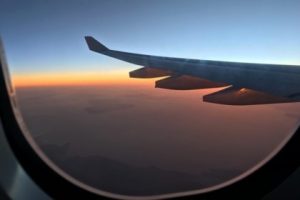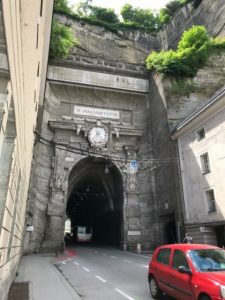 I had set myself a few goals for Friday.  I wanted to get to know the city, especially the places I will be frequenting.  My missions were to find Salzburg College, find Salzburg Lehrerhaus (the dormitory I'll be staying in), and find the Marionette Theatre.  I had to do all of this without the aid of internet outside of the hostel.  So I took some screenshots of Google Maps and went on my way.  That day, I discovered the river on the way to the theatre, I found Mirabell Gardens while searching for the college, and got lost looking for the dormitory.  Turns out, in order to get to the dorm I have to go through a tunnel under a mountain, and then hike over the mountain.  I'm going to get my exercise in while I'm here, that's for sure!  With all of my missions accomplished, I grabbed some Hasel Nuss (hazel nut) ice cream on the way back to my lodgings.
Saturday happened to be my birthday, and I resolved to enjoy myself (how could I not in as pretty a city as Salzburg?) and to eat chocolate cake.  I spent a lot of time in Mirabell Gardens.  It's chocked full of roses, statues, and fountains.  It is absolutely gorgeous.  I want to go back every day.  There's even a hedge maze with a hidden stage in the middle of it.  I took some pictures with my traveling gnome, Aristarchus, too.  He's about three inches tall, and was given to me as a birthday present shortly before I left, so this is our first adventure together.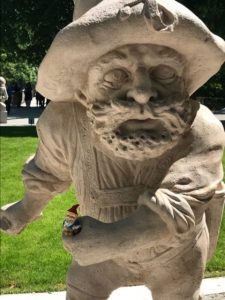 It's nice to have something from home with me while I'm here.  After the gardens, I went to the Haus der Natur, which is a science museum.
It's five stories tell, with two or three exhibits on each floor.  After visiting the fossils, aquarium, astrophotography, geoscience, Christian Doppler, and Salzach sections, the museum closed and I didn't get to finish the top two floors.  I'll have to go back.  Most of the exhibits have English translations as well, which I found very helpful.  Eventually I made my way to Café Sacher Salzburg where I finally got my chocolate cake, called Sacher Torte, a Salzburg original.  It was a yummy meal, but I think I confused the waiter.  Customs are
different here, and I'm not used to them yet.  But practice makes perfect!
Which reminds me.  I have to do my daily German practice and get to bed.  Tomorrow, Monday, is my first day of class, and I want to be alert.  I'll update in a few days, but if you want to see more pictures in the meantime, feel free to follow my adventures on Facebook.
Tschüss!
Isabel Bauer