Western Unveils New Burn Tower
Western Technical College debuted its new burn tower at the Sparta Public Safety Training Facility last Wednesday, March 28.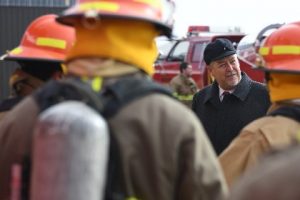 The tower, which is over 4,800 square feet, is four stories tall, with a reconfigurable setup, allowing instructors to change the layout of the first and second floors for additional training. Additionally, the tower contains entry props for doors, windows, and gates, as well as rooftop anchors for rope rescue training.
At the opening, first and second year Fire Protection Technician students ran a training simulation in the burn tower for the first time.
Western president Roger Stanford was at the event. He stressed the importance of having state-of-the-art equipment for those training to be in public safety careers.
The event was well received by everyone!