Vincent Hamilton always knew what he wanted to do when he grew up. For him, designing and drawing buildings was something of a second nature.
"I had actually been interested in architecture many years before I had decided it was the field of study I wanted to partake in," Hamilton said.
Hamilton is now in his second year as a student in Western Technical College's Architectural Technology program, a choice he doesn't regret.
"What I like most about the program and Western as a whole, is the quality of the instructors," said Hamilton. "Absorbing critical information that can be immediately applied upon employment is highly beneficial, especially coming from instructors who have real-world experience within the industry."
A large section of the program involves a capstone project, which takes the students from preliminary building proposals through the preparation of construction documents. For Hamilton, mixing his other passion, sports, was key to the project.
"My capstone project consisted of a half-a-million square foot, indoor multi-sport complex," Hamilton said. "Along with all the various site alterations that came with it."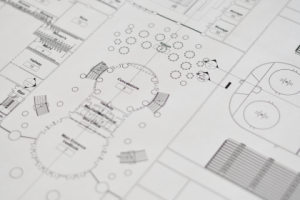 The building was designed to fit near the Menards location along Lang Drive in La Crosse. It includes multiple basketball courts, a hockey rink, and an Olympic-sized swimming pool. Given the building's complexity and features, the project was estimated at exceeding $80 million.
Upon seeing the details of the project, instructor Pete Zirbel had his doubts.
"I initially though the scale and complexity of the project might be too ambitious for a second year student," Zirbel said.
Nonetheless, Zirbel was impressed with the final product.
"It is something that could have been a thesis project for a master's program," Zirbel said. "As the final project took shape, I was impressed with the quality of the design and the level of though put into the project. It is one of the two best projects I have seen in my career."
Hamilton says the praise for his project has taken him by surprise.
"My instructors were pretty amazed by the final product I had presented," Hamilton said. "Mostly because they had never seen any past capstone projects that were designed on such a large scale."
For Hamilton, however, his career is just beginning.
"I would like to find employment locally," Hamilton said. "Perhaps start a firm of my own eventually, if circumstances are promising."
And Zirbel has no doubts Hamilton will be successful.
"He has a professional attitude, strong design skills, and is quite skilled with the building information modelling software," Zirbel said. "As he continues to work hard and learn new skills, the sky is the limit."
To learn more about the Architectural Technology program at Western, head to www.westerntc.edu/architectural-technology.