Like so many other young adults, Ben Salaski didn't really have an idea of what he wanted to be when he was older.
In fact, the only thing he did know is that he wanted to leave home from the Twin Cities and settle in La Crosse, namely UW-L.
"I'm not really a big city guy," Salaski said. "I was drawn to La Crosse by the river and the bluffs and the natural beauty, but I didn't know what I wanted to study."
Salaski ended up majoring in English, in part due to the teachers and staff, but also about the creativity he was allowed to express.
"It really taught me how to become organized in my life," said Salaski. "But it also allowed me a creative avenue. I don't think a lot of people get to do that in their everyday lives."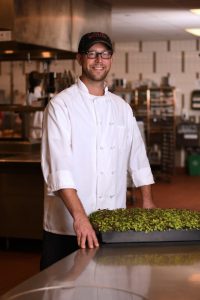 During his time in La Crosse, Salaski worked in Door County over the summers, where he began as a cook for an upscale restaurant. He had been working in a kitchen since he was 16, but never took cooking as a serious possibility for his future.
It was there – under the guide of a chef from the Culinary Institute of America – where Salaski thought cooking could be his future career.
"Something went off in my head, where I was like, 'Wow, this guy is doing so much and I don't even know what he's doing, but I want to know,'" Salaski said. "At that point, I tried to turn my brain into a sponge and learning everything."
Fast forward many years, Salaski has now become the head chef at Western Technical College. He helps prepare many of the meals for the Lunda Center, as well as coaches Culinary Management students in the kitchen, something he's never done before.
"It's very interesting to see students come in, because there a lot of nontraditional students here," Salaski said. "There's a 19-year-old working next to a 60-year-old, but ultimately they're trying to reach the same goal."
Despite what some might see as differences between an English degree and becoming a professional chef, he says they aren't that different.
"People think of cooking as an art form, I think it's more of a craft, it's something you hone," Salaski said. "Sure, the plate can look pretty, but it better taste good. (Writers) have to craft things as well."
Unlike UW-L and Viterbo, Western's cooking staff is not run by a third party. That means Salaski and his team have the ultimate say in the food they prepare for students and staff.
Additionally, Salaski uses Western's greenhouses, in coordination with Hillview Urban Agricultural Center, to purchase produce that is used inside the Union Market. In turn, the compost from that produce is returned back to Hillview to be converted to fertilizer via vermicomposting.
"I've never seen anything quite like this," Salaski said. "You are looking at the future of food."
From working in a restaurant at 16, majoring in English at UW-L, to running and managing Western's kitchen, Salaski knows it was an improbable journey, but one he looks back on with no regret.
"It's fascinating, isn't it?" Salaski looks, perplexed. "You look around, and people (in the kitchen) are smiling and having fun. (Food) is a passion for us."