Western Hosts Construction and Apprenticeship Career Fair
Western Technical College and various local employers teamed up on Thursday to host a Construction and Apprenticeship Career Fair Thursday at the Lunda Center.
About 20 employers, including Brickl Bros., Inc.; Wieser Brothers General Contractors, Inc.; and Schneider Heating & Air Conditioning, were on hand to speak with students about opportunities in the construction and apprenticeship fields. Local unions were on hand as well to discuss the process to become an apprentice.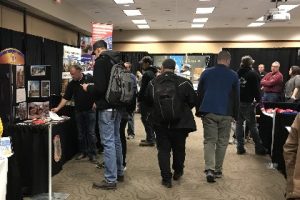 "With the economy booming, construction and apprenticeship opportunities will continue to grow," said Barb Kelsey, manager for Career Services at Western. "This career fair is allowing companies to connect with our students who have the kinds of skills they're looking for in new hires."
Mark Jennings, a representative from Wieser Brothers, said the company is also looking for employees, and the career fair is a great opportunity to find interested applicants.
"We have all kinds of trades on our crews that we are looking for," Jennings said. "Right now is a great chance to be in search of employment, because there is a lot of work out there."
Western staff were also on hand to speak with students about training programs offered within the construction and trades industry.
To learn more about career opportunities, head to https://www.westerntc.edu/career-services.