Western Hosts Sustainability Showcase
The Sustainability Institute hosted Sustainability Showcase featuring the 2017 MPower Business Champions with keynote speaker Mayor Tim Kabat Tuesday at the Lunda Center.
During the event, Mayor Kabat spoke about La Crosse's sustainability efforts. Attendees also learned more about MPower Business Champion Program and interacted with 2017 MPower Champions as they highlighted their projects from the past year.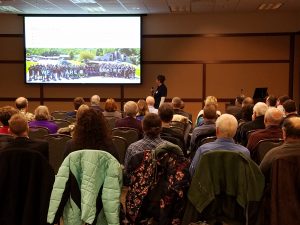 What is MPower?
MPower is a one-year, fully customizable program for businesses and organizations that want to reduce their environmental impact while saving costs and creating a healthier and more engaging workplace and community.
The MPower Champions Program is developed to engage, inspire, and network businesses working towards sustainability in the 7 Rivers Region of southwestern Wisconsin. The program focuses on helping businesses reach specific goals. Over the period of one year, the MPower Champions Program moves businesses from intention to implementation; reducing their use of energy, water, transportation and waste through completed projects they choose.  These projects ultimately save them money and/or increase engagement internally and often externally as well.