Western Collaborates With La Crosse School For Writing Project
As part of a Creative Nonfiction class, Western Technical College staff collected writing projects at Spence Elementary School in La Crosse this week.
Each fall, Western students from Lisa Heise's Creative Nonfiction class write a children's book as part of a class project. Heise and her students delivered the books to Sam Bina's third grade class at Spence Elementary School two weeks ago, where students read and wrote reviews of the stories. Heise returned to collect the stories this week, along with prizes for their good work.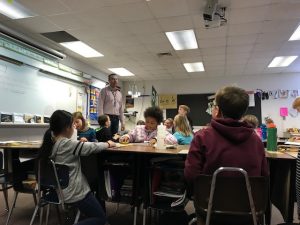 "This is such a wonderful opportunity to include students from a variety of ages and backgrounds into the learning process," said Heise. "This experience benefits not only Western students, but also those in Mr. Bina's classroom."
"The third grade students take great pride in providing feedback to the students," said Bina. "Not only do the elementary students enjoy reading these books, this project helps promote and practice important elements of the writing process such as revising and editing."
All of the children enjoyed reading the stories, especially the book regarding bats.
To learn more about educational opportunities at Western, head to www.westerntc.edu. To learn more about opportunities with the School District of La Crosse, head to www.lacrosseschools.org.