Overcoming the odds is nothing new to Western students. Whether it be financial constraints, childcare responsibilities, or work conflicts, Western students always find a way to make the impossible possible.
La Crosse native Moua Torgerson is the third child of ten in her family. As the oldest daughter of a traditional Hmong family, Torgerson did what she could to help her family, taking care of fellow siblings and working at McDonalds throughout high school. She would often help her parents pay bills or take care of children. When her father died of liver cancer seven years ago, she helped become a primary caregiver with her mother, forgoing higher education.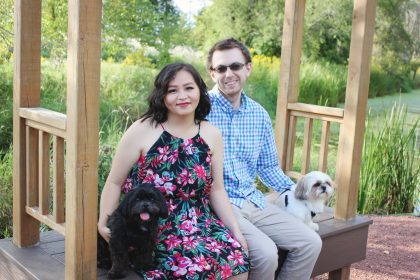 "I didn't go to school right away. I just wanted to make sure my parents were OK," she said. "I always wanted to invest in them and my family."
Later in her career, Torgerson moved to the Mayo Clinic Health System, where she worked in various roles. At Mayo, Torgerson quickly rose through the ranks, helping manage the La Crosse location's COVID clinic for testing and later, vaccination. She helped develop the mechanism by which patients checked in, earning accolades across the Mayo Clinic Health System. Now, she works as an Associated Clinical Research Coordinator, helping cancer patients enroll in nationwide Oncology studies and assists in the collection of data. All these achievements were done without a formal college degree.
But Torgerson wanted more. After being turned down for numerous promotions, her husband, Mike, encouraged her to pursue higher education. She enrolled in Western's Medical Administrative Professional online program, with hopes of transferring to Winona State to complete her bachelor's degree. To make matters easier, every credit she'll earn at Western will transfer seamlessly to her future studies. For the last several years, Torgerson has been doing it all; helping care for her siblings, maintain a job, and going back to school full-time. She does it all with determination and grace.
Like nearly every student at Western, Torgerson was encouraged to apply for scholarships to help pay for her education with Western's Foundation. This past spring, she was named the recipient of the President's Scholarship, which helped her financial situation significantly. After years of taking care of her family, it was time to give back to herself.
"When I received that scholarship, I felt like this was the very first time that someone wanted to invest in me," she said proudly.
Torgerson graduated from Western last spring, and she will transfer to Winona State for her bachelor's degree in healthcare leadership following the completion of additional general education courses. Through it all, however, it was that little extra push in the form of scholarships that made it all possible. Moua's spirit, determination, and drive are all attributes unique to her story, but they are the qualities that make all Western students so special.