Natasha Normand is redefining roles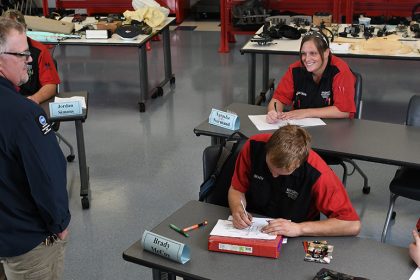 Once upon a time in the town of Chippewa Falls, Wisconsin, there lived a remarkable woman named Natasha Normand. However, Normand's current reality is one of an Army veteran living with PTSD, and a single parent to a lovely 5-year-old daughter, Aurora, and the world's greatest dog, a black lab named Diesel. After serving with bravery and dedication for six years, she has been discharged and found herself at a bit of a crossroads. Normand is not one for fairy tales, but she has thoughtfully organized her life in an enviable fashion.
After her time in the Army, Normand pondered life's next steps. She made the solid decision to attend Western to secure an education that would open doors to a fulfilling career with financial security—she has a family to care for! Normand has always had a sharp mind for mechanical things and has fond memories of working on cars with her father—often triggering the warmth of nostalgia. So, Normand enrolled first and finished the Automotive Technician program, and then enrolled in the Diesel and Heavy Equipment program, for which she harbors a strong preference. She dedicated her time and efforts to becoming a skilled diesel technician.
Normand faced the challenges brought by the COVID-19 pandemic soon after entering the diesel program. She begrudgingly adapted to online lectures while juggling her time as a single parent and student. Doing and practicing mechanical work with her peers in a collaborative classroom setting works best for her; relief was felt when they could join each other in the classroom for hands-on learning. Normand appreciated her instructors a great deal—due to her PTSD symptoms, she experienced their accommodating and understanding sensibilities to the fullest.
Normand began her career at Peterbilt while she was still in school. Skeptical of the time commitment, her instructor assured her it would be both beneficial and worth her time. She managed her part-time work schedule, full-time school schedule, and home life efficiently, ensuring no compromise on family time. Peterbilt has a small shop equipped with six mechanical bays. Each day at Peterbilt brought new puzzles to solve: "You never know how it is going to go, but you have a team of experts working together. I love that collaboration," says Normand.
Normand felt the gratification that came with each thought-out solution. Her mind worked like a skilled problem solver, equipped with the knowledge she gained from her time at Western and on the job. "Every day is a different challenge; boredom is never a problem," says Normand. Her coworkers welcomed her as an equal, which is exactly what she is. She quickly became a valuable team member. The fact that she is the only woman in the department as well as the entire building is not something she thinks about. Reflecting on her life's journey thus far, Normand feels proud of her progress and how she took control of her life after the Army. She is grateful for the opportunities she created, including finishing school and becoming a mother. If she had to do it again, she states that she would do it the same.
Beyond her career, Normand finds joy in her family. She is a member of the Combat Veterans Motorcycle Association, where she combines her love for motorcycles with veteran solidarity. Normand's friends affectionately call her Storm, a nickname that captures her unwavering spirit. As Normand's story continues to unfold, filled with the magic of perseverance, she shows the world that with dedication, one can leave the difficulties and hardships behind. And so, she and hers are living happily ever after, leaving behind a trail of enchantment and inspiration. A true fairy tale ending, even Normand would admit.
Every day, independent thinkers and doers go against most of their gender to bring incomparable value to a career outside gender-normative stereotypes. We thank Natasha Normand for helping pave the way. Follow Natasha's example and discover your own place to thrive! To learn more about Western's non-traditional occupations, visit: www. westerntc.edu/non-traditional-occupations