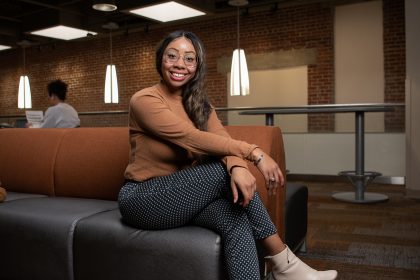 Chalondra and her four-year-old son, Dakarai, found themselves in La Crosse one year ago. Looking to give their lives structure, stability, and self-reliance, they decided to put down roots. This was the first step towards change—a transitional move—with a career for Chalondra and school for both as the objectives.
Originally from Chicago, the cost of living, lack of traffic, quality education system, and the abundant open spaces and bluffs particular to La Crosse provided the push she needed to stay. Since the move, she has been providing healthcare at an area live-in care facility. A natural nurturer with a way with words, Chalondra loves her work and says, "When you care, it doesn't seem so much like work. I've cared for many family members, and it feels much the same." Comfortable in her job, Chalondra enrolled in Western's Nursing program as the next step. She noticed other single parents attending and felt an instant kinship. She's looking forward to connecting with her single-parent peers and is ready to come out of her comfort zone and try something new. "As a single mom, I sometimes forget about myself," Chalondra muses.
As a 27-year-old doing this on her own, this new life project feels like a worrisome, huge, and uncertain undertaking. However, Chalondra is up for the challenge, and even as unexpected snags appear, she's determined to make this work for her and her son. "School is closed, and I have to be in class shortly," is a challenging reality. Self-sufficiency is the goal, but the journey of growing pains is hard, and everyone needs help. All you need to do is ask. Or, at Western, an engaged instructor may take notice and ask if you need help! This is what happened with Chalondra.
Over the holidays, Chalondra lost her live-in care job, which left her not only jobless but also homeless. School was no longer the priority—simply existing and caring for her son were the only things guiding her choices. Overwhelmed with life and navigating it with no support network is not a healthy place to be. She states, "When you must do everything on your own, you see how insurmountable it is. The slightest thing can send the whole thing tumbling down." Naturally, classes dropped way down the list of importance, which is unfortunate since she was on her way to completing the Nursing Assistant program. This was a big part of the plan: to work as a nursing assistant to fund her education.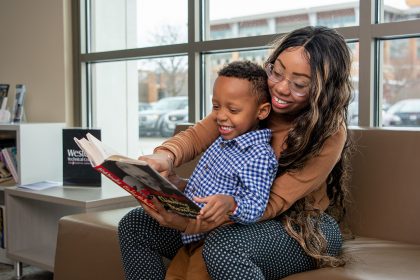 Chalondra's nursing instructor, Laurie Ellefson, noticed her absence and acted. Ellefson contacted Western counselor Lauren Jankowski to see how they could help. Chalondra was always a serious and results-oriented student, but she found herself in a situation where she needed academic and financial assistance. She needed a place to call home for herself and her small family, and she needed to catch up in her classes. Ellefson met with her to figure out a plan that included time management, preparing for the Nurse Aide Registry exam, and a realistic schedule that Chalondra could stick to, all while factoring in her living situation. Jankowski secured emergency funding and grants to help Chalondra find a good home for her son—a safe place to live and study. Then, the internet didn't work and a whole host of troublesome details tried to derail it. It was a rough period; tears were shed. Chalondra was moments away from giving up, but help was a real option! Ellefson and Jankowski won't be forgotten.
What mattered most was their belief in Chalondra. The trusted and caring people around her knew she had what it takes to succeed and made sure she knew it, too.
Meeting high expectations set by these caring professionals is incredibly effective. Chalondra had never experienced anything like it before and said, "Laurie took time out of her day to help me, and her belief in me is more meaningful than she will ever know."
Chalondra is officially a Certified Nursing Assistant and a new employee at Gundersen Health System. She's making progress in her nursing program and even taking classes over the summer. She and Dakarai now have a warm, safe place of their own to call home.