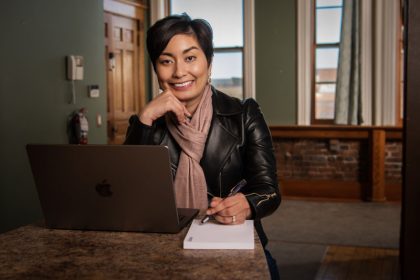 Mai Kamolchanok Yingneuk is a 2010 graduate of Western's Graphic Design program, and in 2023, she's still a key member of Western's Graphic Design Academic Advisory Committee. Sandwiched between those two facts is a wonderful story about finding your true self and following your dreams, even if it's not the easiest path.
Mai is from Bangkok, Thailand, one of the largest cities in the world. Bangkok is a highly populated, competitive, bustling, fast-paced, and chaotic place; it's also brightly beautiful with elegant architecture and sublime religious shrines. Mai first came to the United States in 2006 as an exchange student and spent her senior year of high school in Whitehall, Wisconsin—a place more strikingly different from home is hard to find. A true clash of cultures followed, and surprisingly, or maybe not, Wisconsin was the one that captured Mai's imagination and heart. She loved Whitehall and became an essential part of an extended and loving host family with many close friends. Mai didn't know it yet, but she would end up marrying a charming boy from Whitehall; she is currently in her 12th year of a wonderful marriage.
After Whitehall's high school graduation, Mai went home to Thailand to explore her interests and start college. She has always loved art, beauty, and creativity. Relatively early in life, the peace and outside-of-time flow she experiences while working creatively proved addictive. From painting, design, photography, and website creation, she could see the exciting career possibilities.
The academic peer pressure in Thailand is intense and laser-focused on math and science, and neither was appealing to her. According to Mai, college in Thailand is too focused on STEM while holding art and creativity as a hobby. Art and design certainly weren't a respected nor viable course of study. Mai saw this as wrong-headed and approached her life accordingly. She couldn't study art the way she wanted to at home; at 18, she packed her bags and came to America again. Her parents are both retired teachers and are serious about academics. They weren't thrilled with the idea of Mai leaving home for foreign lands again, but they supported their daughter as she decidedly ventured off. Mai notes that since her college years, Thai attitudes toward art and design are enjoying a major upswing in levels of popularity and importance.
So different from La Crosse, Mai was happy to leave the unhealthy climate of competition behind. She did not miss getting up at 5 a.m. and eating breakfast in the car to beat the traffic. She knew she wanted to be back in this uniquely beautiful area! Of course, there is the vast and tedious issue of visas, green cards, voluminous paperwork, sponsorships, and host families. We have no idea just how much work there is to do before the academics even begin. She explored school options and chose Western for its Graphic Design program. Western's international specialist Max Vang was supportive, organized, necessary, and helpful.
Mai's time at Western was warm and wonderful; she describes it as a "caring family." As an international student learning English, she was self-conscious about her speaking, but she never needed to be. She effortlessly formed collaborative friendships as they learned together.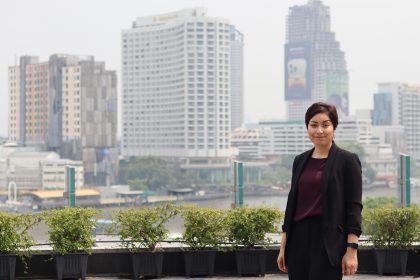 To Mai's surprise and pleasure, folks noticed and celebrated her creativity here. She took solace in the inspirational instruction. The creative director from a local agency saw Mai's work at Western's Portfolio Review and was impressed. Portfolio Review is a capstone project for graphic designers; the soon-to-be graduating students display and discuss their entire body of work! At the same time, Mai was sadly packing her bags for home when she got a call—"would she like to interview for a creative position at Interact?" She sure did, and she got the job! Mai thought, "now what do I do?" It's tricky with the work visa. She talked to Max, Interact offered to sponsor her, and her parents said, "go for it!" She didn't want to leave her future husband! After five years in the U.S. with a green card, you are legally a citizen.
Since graduating from Western in 2010, she's been working at Interact, just a few blocks from the Western campus. Interact, headquartered in La Crosse, is a marketing agency specifically for two-year and technical colleges across the nation. She started as a graphic designer, and her role has grown from there—she's been the creative director for eight years already. Mai explains that Interact's founder, Dr. Pam Cox Otto, is a key contributing factor to her career success. Otto's belief in Mai combined with smart support and guidance enabled her growth, "She believed in me before I did, and she changed my life," Mai states.
As an exchange student struggling to learn English under pressure, she's accustomed to working twice as hard to communicate and understand, but it has become one of her strengths. She can convey complex messages using as few words as possible; it's a honed talent. A picture is worth a thousand words while using exactly zero! Mai's goal at Interact is to show the many success stories typical of technical and community colleges. She has lived the ultimate success story and wants to encourage others to do the same.
Mai thinks "If we are not learning, we are going backward." Focusing on leadership skills, she's acquired a business management degree from UW-Stout, which she describes as "the other side of art in a complementary way." Mai graduated summa cum laude while working full time, a fact of which she should be proud. Mai is guiding co-workers and leading teams while communicating strategies and project particulars: she discovered she loves teaching, just like her parents. Mai plans to keep growing, learning, and getting better at what she does. Communication skills are useful always and everywhere. Connecting with her team is uplifting. Even though they're working from home permanently, her Interact connections are still a draw—like-minded folks creating together as part of something bigger.
Mai loves La Crosse's outdoor-focused community since she shares the same enthusiasm for using the bluffs, forests, rivers, and miles of hiking trails. Canoeing in the Driftless Region is a favorite hobby. She enjoys canoeing even though she can't swim. She's comfortable relying on the security of a quality life preserver! She looks forward to her yearly recharging trip with her husband on a technology-free Boundary Waters excursion. Physical exertion, solitude, and mental peace are nature's gift readily available for the taking in the Midwest.
Mai visits her family as often as possible. Her younger sister, Pim, lives in Bangkok and runs her own business—Japanese kitchenware. Her parents are retired and live outside of Bangkok; she misses her two dogs: old lady Kola and Otis the golden retriever.
Mai talks about her parents as role models because they encouraged her to explore the world her way. They still say, "We trust you to make good choices." Her parents worked very hard as teachers and are thoughtfully intentional with their words. Perennially the educators, they are always pushing books to read! Mai adores that about them and cherishes that love and respect, "I trust you will do good with it." Often, that's all it takes.