How Garrett Denning Found His Path
Western Technical College grant writer Garrett Denning is excited to tell you about his work. At this particular moment, he's organizing a symposium on how to best serve and empower neurodivergent students. It's clear he's passionate about helping people, and it's changed him all for the better.
"I see this leadership confidence come out of me to a level I have never seen before," he said.
But it hasn't always been easy.
Garrett grew up in Appleton, Wisconsin. From a small age, those surrounding him noticed subtle signs of difference. He was considerably shy, or, as a teacher described it, "selectively mute when under pressure" and would often cry. He read at an early age and often enjoyed reciting lines from books and movies. Determined to find some sort of diagnosis, professionals initially couldn't agree on a label. It left him feeling they saw him more like an experiment rather than a child.
"My mom had to place a picture on the table, reminding them I was a person," he adds.
He was eventually diagnosed on the autism spectrum. His mother, a special education elementary school teacher herself, worked to make sure Garrett was treated like any other student. Still, middle school was made more difficult by others not understanding.
Fast forward to college. Garrett attended Ripon College for English but left before completing his degree. He describes it as "three years of misery" with lots of incompletes and withdraws. "In retrospect, I was way too depressed."
Part of that depression stemmed from questioning his own sexuality and fears of rejection. He didn't seek out help because he had no idea where to go. His senior year of college, however, he transferred to UW-Oshkosh, in part because of a LGBTQ resource center being created at the time.
Later, Garrett attended a panel of transgender individuals at the Center. In listening to their personal stories, he recognized something in himself that up to that point he had been unable to name. Assigned female at birth, Garrett did not like puberty, but had trouble identifying why.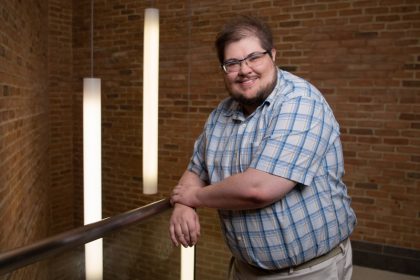 "It was hard to conceptualize it for some time," he said. "You just assume the answer is you're autistic. You're weird."
With more introspection, Garrett's true self became clearer.
"I turned to my friend and said 'I don't know my name, but I need to go by he/him pronouns from here on out.'"
Coming out to everyone was difficult at first, especially to family. Telling his mother, already knowing he was bisexual, was the hardest.
"I thought if I came out to her as a bi trans man, it would kill her."
The pressure Garrett faced coming out in what should have been his final semester, combined with fears of the future (especially in entering the workforce as an autistic trans man) led him to leave college six credits short of a bachelor's degree.
"I had heard the stories growing up. Those trans sob stories; I couldn't get them out of my head. None of them showed a future," he explained. "I didn't know what I wanted to do with my life. But more than that, I didn't think that if I did, I would have any kind of future. That gets to you. It gets to your head."
After leaving UW-Oshkosh, Garrett returned to the workforce. After a few years of transitioning, he returned to college to complete his bachelor's degrees in English and Human Services Leadership. There, he fell in love with school once again.
"I was given this chance to become not just another drop out student," he said. "I started to think about who didn't have this same chance. Who fell through the cracks."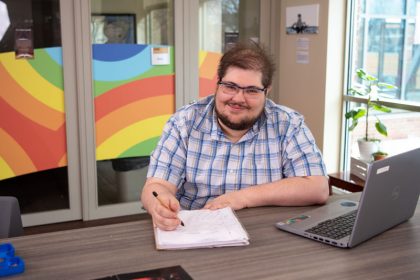 He enrolled in UW-La Crosse, pursuing a graduate degree in Student Affairs Administration. Graduating in the midst of the COVID-19 pandemic in May 2020, there were few jobs available due to the shutdown, and Garrett found himself worried about his future once again.
He took a chance on a grant writing position at Western, where he is today. While hesitant at first, he's more confident than ever, helping students at the Student Place of Action, Culture, and Empowerment (the SPACE), and serving on several committees and groups designed to help marginalized students, particularly those who are LGBTQ and/or neurodivergent, succeed in college. He also plays a crucial role in the grants department, helping secure funding for a number of key projects at Western.
It's been a long journey, but with all those twists and turns, it comes down to one single rule: "You need to be connected to your why."