Arcadia Student Finds Life-Changing Support
Evelyn Limon Vasquez had overcome the challenges of moving from Cancun, Mexico to the United States at the age of 14 and was wrapping up her final year at Arcadia High School when the pandemic hit. She was looking forward to the graduation party she had seen in Hollywood movies – banners, balloons, cake, and dozens of friends and family gathered to celebrate her accomplishment.
But the graduation ceremony and party she imagined were not to be.
In the last three months of her senior year, Evelyn was instead forced to develop technology skills very quickly to even finish her classes. Everything went virtual. For a social person who preferred face-to-face learning and interactions, this disruption turned her world upside down and made her unsure of the next step.
Then, after a non-traditional graduation without much pomp and circumstance, family issues caused Evelyn to move out and live on her own.
"I had no money to pay for college, no money to pay for internet, and no money to get a bed," recalled Evelyn. "I was starting from zero."
But she knew she wanted to continue her education. As the first person in her family to pursue college, she was already at a disadvantage in navigating the admissions and financial aid processes. Throw in the unprecedented virtual component for all college communication, and the task seemed overwhelming.
"I chose Western because it was the most affordable option, but I didn't know what career to choose or what classes to take," said Evelyn. "There were many times I wanted to drop out because I couldn't find something I liked."
Evelyn found direction through the Learner Support and Transition area, and with instructors Dillon Mader and Betsy Breckenridge specifically.
"My advisor gave me a test to find the program that fit my personality and skills. Dillon helped me complete it and discover more about myself," said Evelyn. "He has always seen something in me that I couldn't see at first. He encouraged me to try the Leadership Development program because he saw a leadership spirit in me."
At first, virtual college courses were a strain on Evelyn and she wasn't doing well. Layer on depression from life circumstances and a pandemic, and there were days when she struggled to even participate in online classes. But Evelyn is not one to give up. Instead, she asked Dillon and Betsy for help.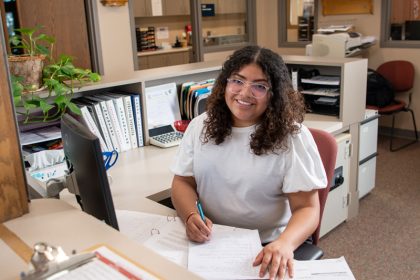 "They helped me with my English and encouraged me to keep going," said Evelyn. "They showed how to get financial assistance and helped me get in touch with a counselor."
It was at that point she was able to overcome her obstacles.
Now, the online format works well for Evelyn, allowing her to work more and save money. If she notices herself struggling to understand concepts, she continues to work with her instructors and take advantage of the opportunities that Western offers, like the Learning Commons, written and communication support, and peer tutors.
Western also offered another solution for her situation—a job. Evelyn works at the Independence Regional Location as a part-time administrative assistant covering the front desk.
"I answer phone calls, help visitors, and answer all types of questions," said Evelyn. "I use my bilingual skills to help others find a place here at Western. The Independence campus is very beautiful, and I'm excited to see more people come to the campus and benefit."
The lessons Evelyn learned at Western went beyond the classroom and career training. Finding people who believed in her built up her confidence to not only earn her associates degree this spring, but to pursue a bachelor's degree in Business Leadership at Viterbo University.
"In simple words, the support that Western offers—those teachers who offer their help in various ways—is something that I will always be grateful for," she explained. "They have helped me academically but more than that, they have changed my life in a good way."