Artisan craftsmanship and a good business plan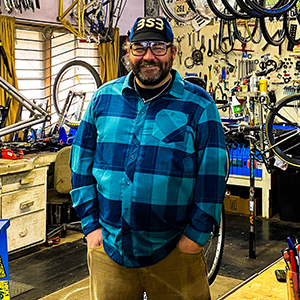 Blue Steel Bike of La Crosse, Wisconsin, is a mobile bike repair shop for most of the year and a custom frame and bike build shop. Paul Reardon, owner of Blue Steel Bike, is the brains and the talent behind the uniquely positioned and successful operation. Paul's motto, "Our frames are one in a million, not one of a million."
Paul graduated from Western with a welding degree and started the Blue Steel Bike business in fall 2010. At that time, he was already equipped with years of bike mechanic and frame building experience combined with the skills of a professional welder.
Blue Steel Bike was a labor of love until he was laid off from his welding job. With clarity only afforded hindsight, Reardon states, "It was the best thing that ever happened to me. If I'm to make this my career, I need a smart business plan." As a nontraditional student with a great idea, Reardon earned Western's Entrepreneurship Certificate. "The instructors were easy to work with—they helped with the practical elements of owning and running a business," says Paul.
Bike enthusiasts must check out Reardon's custom bike builds. Each bicycle is built from meticulously measured components, one at a time, from start to finish, in his northside shop. Each bike is a work of functional art with a personal custom fit that handles precisely how you like it. He extolls the virtues of working with his hands and his mind to create something beautiful, unique, and purposeful.
Paul took a certified race mechanic class at the Olympic Training Center in Colorado Springs, Colorado. He knows that knowledge opens doors to more adventures: world travel, meeting people, trying unique cuisine in less-traveled places, to name a few. This is what life is all about: rich experiences are superior to riches. However, there are few things he enjoys more than building and fixing bikes. Paul is essentially Western.