Start the New Year with Western's Wellness Options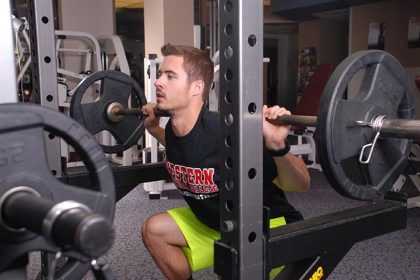 Health and wellness are vital to the success of our students and staff. As we turn the corner on another year, everyone at Western is pondering their new year's resolutions. Some wonder if their goals will work out, while other goals are to work out. If that is your goal, Western will help you see it through, thanks to our state-of-the-art Wellness Center. Located at the lower level of our Administrative Center, it's where students, faculty, and staff find the tools they need to live healthier lives.
Anticipating your needs
Whether you're just starting on your workout journey, or you're experienced but entering a new chapter, the Wellness Center offers a variety of equipment and services—from strength and cardio machines to free weights to group fitness classes to intramural sports, and even massage therapy!
Staying healthy can seem tough at first, but knowing where to begin can be even tougher, and that's okay! Western offers fitness assessments to determine your current fitness level. These measurements will direct a custom fitness plan and illustrate how consistent efforts make a huge difference.
If you have a plan but don't want to go at it alone, we offer group fitness classes and personal trainer sessions. Our certified trainers are available to all students to create fun programs tailored to specific strengths and needs. With topics spanning from proper posture to correct exercise techniques, our trainers are here to provide plenty of fitness expertise and guidance.
As a rule of thumb, weight loss is 75% diet and 25% exercise. Diet is an essential part of wellness and proper nutrition maximizes health and reduces disease risk. Our nutrition coach gives members one-on-one assessments.
Equip yourself
For those who are familiar with the Wellness Center or have basic gym experience, we invite you to create your own routine:
Precor treadmills and elliptical machines
Matrix strength machines
Upright, spin, and recumbent bikes
Free weights plus kettlebells and sandbells
Stability and medicine balls
Various resistance bands, including TRX suspension bands
And these are just a few. Our facility also includes a full gymnasium, a studio for group fitness classes, a massage therapy room, and locker rooms with showers.
We partner with Viterbo University to offer an Intramural/Recreational Sports program available to any student member regardless of skill level or experience. Our intramural program focuses on the development and maintaining of a healthy body, social interactions, good sportsmanship, a major stress outlet, and, most importantly, fun!
Becoming a member is easy
Stop by the front desk and fill out a membership application. Anyone 18 and up can apply. Affordable fees vary, depending on the status of the applicant. Contact us today and find out what plan best fits your goals.
At Western, we're all about helping students set goals and making it easier to achieve them—no matter what they are. Start your new year off right at the Western Wellness Center—where there are no limits, only new horizons.