Five Modern Agriculture Careers That May Surprise You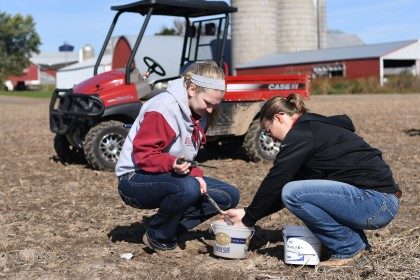 Agriculture is one of the oldest and most essential occupations on earth. Today, the ag world looks a lot different from the past—careers in agriculture are becoming very diverse and innovative. New technologies and practices are revolutionizing the game. If you aren't accustomed to the agriculture world, you may be unfamiliar with many of the modern professions that make up this $5 trillion industry.
Here are five modern careers in agriculture about which you may not know.
1. Food Science
Who doesn't like food? The study of food science goes into depth about the physical, biological and chemical makeup of food. Nutrients, taste and sustainability are important factors when dealing with food sciences. Biology, biochemistry and engineering are all used to improve and process food around the world.
2. Dairy Science
The dairy industry helps feed the world. It is a vital part of the global food system and is key to sustainability in rural areas. Dairy science focuses on the applications of biological and chemical principles to the production of dairy products, as well as how to properly and efficiently manage dairy animals. Western's Farm Business & Production Management program is prime for future farmers.
3. Aerial Agriculture
Crop dusting and other aerial applications of agricultural materials have been going on for 100 years. But modern-day technologies make it possible to create quick aerial photographs and digital imagery. Through the use of aerial images, farmers are able to tackle problems that wouldn't have been seen normally. Agriculture is one of the fastest-growing markets where commercial drones are being used.
4. Agronomy
Agronomy is a branch of science that focuses on the study of crops and the soils in which they grow. This includes studying the following:
Properties of soils
How soil interacts with growing crops
What nutrients crops need
How to protect crops at all stages
How to protect the environment while growing crops
Agronomy is important, because it helps optimize the plants we use for food, fuel and fiber. Western's Agri-Business & Science Technology program has many career opportunities, including agronomy and our next career… Agri-business management.
5. Agri-Business Management
Since agriculture is changing quickly, the farmers of today have to keep pace with sophisticated technology and competition. Agri-business involves the management of all business aspects related to agriculture. Help farmers and farm managers increase profitability and efficiency, or help the management of your own farm operation with an agri-business background.
Get the hands-on experience and education you need at Western Technical College. Attain relevant career preparation through technical and employable skills. Get started and apply today.