Western Program Offering Online Flexibility For Students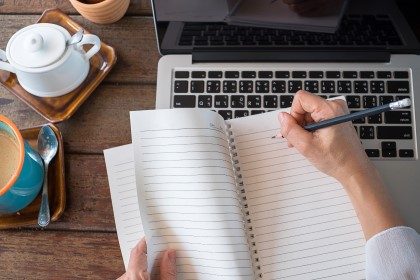 November 4-8 is designated National Distance Learning Week in the country, a chance to celebrate the variety of learning methods available to college students in the digital age.
At Western, online options are becoming more and more available, as programs shift to meet the needs of students.
A number of programs at Western are completely online, including the Hospitality Management program. Introduced in the fall of 2017, the curriculum is based on five academic terms at 12 credits per term, and covers skills necessary to supervise staff and operations in hospitality-oriented organizations. A variety of technology is used – discussion boards, journals, written reports, video presentations – all utilized to give the student a thorough, rigorous, and enjoyable experience.
"They do the same activities, assignments, projects, and presentations that would be required in a face-to-face or blended class," said instructor and program chair Roxanne Smothers. "We simply find new ways to help them do that."
The use of video in the program is helpful as well.
"In my classes, I provide the student a weekly video agenda (to be used like a checklist) that includes their weekly, class activities to be completed over the course of the week and assignment instructions," said Smothers. "The students really like the videos. They feel it makes classes feel 'like a real class.'"
Hayley Rodriguez is a current student in the program. Even though she's based in La Crosse, the program is convenient for her work-life balance.
"I enjoy working, and with the online program I am able to work whatever hours my job(s) need me, without having to work around a school schedule," she said. "I am also able to work ahead if I would like because the course is laid out right away at the beginning."
"The online format gives them the flexibility they need for jobs, as most of them work full time, some with families," Smothers said. "It helps them find the work-life balance they need to be successful."
Rodriguez admits she sometimes misses the face-to-face component of classes, but she says the videos are sufficient, and the instructors are always on call to help.
"Being flexible and available when the students need us is a priority," said Smothers. "We do not want a student to feel like they're out there alone."
Smothers says the feedback has been clear from the beginning.
"To date, the feedback has been overwhelmingly positive," said Smothers. "We offer the students a variety of ways to provide real time feedback, and we always look for ways to improve."
Several programs are available exclusively online at Western. Those include the Business Analyst, Business Management, Digital Marketing, Entrepreneurship, Hospitality Management, and Leadership Development programs. Some programs, like Digital Marketing, use Blackboard Collaborate, where students use web conferencing software to watch and interact in class online.
To learn more about the online options available at Western, visit www.westerntc.edu/online-programs.