The Study Abroad Experience
A deadline for a study abroad program is quickly approaching.
The program is for any Western student who have completed at least 12 credits and have a cumulative GPA of 2.75 or higher. Students in the program will enroll in a two-credit course over a 10-day excursion into Italy in May, visiting places like Florence, Venice, and Rome.
The early/preferred deadline for an application is Tuesday, Nov. 27. The final deadline is Jan. 7. More information can be found at www.westerntc.edu/study-abroad.
Below is a first-hand account from Andrea Hanson, a Western grad, on her study abroad experience two years ago!
-What was your program at Western, Andrea?
I was an ADN Nursing Student at Western when I got the first email talking about this exciting new opportunity for a Study Abroad Adventure! I have never traveled out of Wisconsin, let alone the country, but thought to myself, "now is the time!". Scotland, in particular, has always
been an area of interest for me, so I knew I had to take some time to review this opportunity to travel in a safe environment. I talked with my best friend, who is a pre-nursing program student, and we decided to go together to an ITV informational meeting at the Viroqua campus. We took a lot of notes and thought that with enough fundraising, we could actually make this happen! So we took the plunge and applied for the Study Abroad Experience.
-How did you hear about the study abroad program?
I first heard about the new study abroad program in a campus wide e-mail telling all students about this exciting new opportunity!
-Where did you travel?
Our trip was a 10 day experience with time spent in Edinburgh, London, and a day-trip to Wales. It was truly the trip of a lifetime! My favorite was Edinburgh, Scotland. I LOVED touring The Edinburgh Castle and exploring the Royal Mile! Our group was really fun and adventurous! The atmosphere was incredible with polite locals, great food, amazing bagpipe street music, and sightseeing tours!
-What was the experience like? Any memories stand out?
The trip was truly a once-in-a-lifetime experience for me! I was very nervous about being far away from home with people I didn't know, in a different country, halfway around the world! I'd flown before but not on a huge jet on a six-hour-long trip over the ocean. Once we were in the air, on the final leg of the trip, I think we really settled in, got some sleep, and were ready to la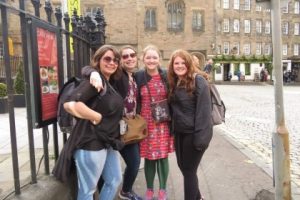 nd and begin our adventure! It was rainy just about every morning while we were overseas, but the weather always cleared up for us! We had some free time in Edinburgh to explore around the Royal Mile, grab some food, and do some shopping. My friend and I decided to grab a taxi from where we were shopping back to the designated meeting spot, and had some very nice conversations with our cab driver. In the thickest Scottish accent, he explained to us that he used to be a tour guide for Scottish folks, except he would bring groups to tour the U.S.A. We exchanged stories about our lives back in Wisconsin, comparing them to his life in Scotland. He told us that we absolutely had to come back and tour around the Highlands, which is where his family takes their "holiday," or vacations. We were able to go on a literary walking tour around Edinburgh with a pair of guides who were in character from the old times of Scotland. The guides were so hilarious and taught us a lot about the rich history of the buildings, the city, and the famous authors who were inspired from such a beautiful place. Touring the Edinburgh Castle, as well as Windsor Castle in London, was so amazing! The artifacts and enthusiastic tour guides really made the all the tours so much fun! There were so many people in London, and it was quite overwhelming! On our way through parks we decided to get a glimpse of Buckingham Palace, and the Queen's office. We took a break near the front entrance of the palace under a shaded tree. We were all lying in the grass, catching our breath in the shade, when a motorcade drove by, and there was a beautiful car right in the middle, which just so happened to have the Queen herself sitting in the backseat, waving as she drove by. One member of our group even got a picture! That was a very memorable experience for all of us!
-Would you recommend a study abroad program for others?
ABSOLUTELY! As intimidating as it was to get started, the relationships built during class portion, fundraising events, and the trip itself was well worth the time and money spent! I would recommend Western's study abroad experience to any student who is interested in experiencing new foods, new friends, and new cultures while gaining the exciting experience of traveling in a safe environment. For me, this trip taught me how to how to overcome social barriers and learn how interact with others in unfamiliar circumstances. I have utilized these new skills as an RN while working with my patients and co-workers. If you are a Western student who thinks the Study Abroad Program might be something they would be interested in, I would say GO FOR IT! It will change your life!
Thank you, Andrea! Students interested should apply early, as space is limited. Head to westerntc.edu/study-abroad to learn more about the program.