Western Students Present Final Projects
Students from Ann Brice's Project Analysis and Game Development classes were busy presenting their final projects at a showcase event on Tuesday, August 14.
Students in the Project Analysis class have been working with the La Crosse Symphony Orchestra over the course of the 14-week class to redesign and implement a new website for the organization. At Tuesday's presentation, the students showcased the final project. Overall, the organization was very impressed with the new website. The symphony expects the new site to be live by the end of the week.
Students in the Game Development class spent the summer learning about two-dimensional gaming and animation. Following the presentation of the redesigned website, the class presented their final games for individuals to test. Among the games were Lemon Head, a 2-D platforming game, similar to the Super Mario Bros. series.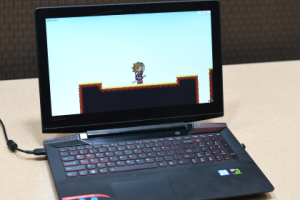 Paige Plaza, a student in the class, created a 2-D platforming game titled, "Adventure Ninja 2-D." The goal of the game, according to Plaza, is to collect various gems and emblems throughout the world. She said above all, the class taught her a different way to think about programming.
"It gives me a different idea of how different game engines work," said Plaza. "The engine I choose, Unity, has a very steep learning curve. You really have to read and find tutorials to help figure out the process."
Although the project was a challenge, she says it was all worth it.
"It was a really fun experience," Plaza said.
To learn more about the IT-Web and Software Developer program at Western, visit https://www.westerntc.edu/it-web-software-developer.