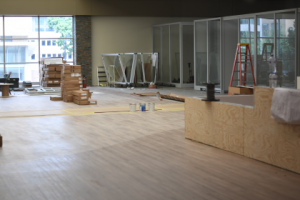 Several Western Technical College facility projects are ongoing this summer. We provide an update for those who are curious!
Construction continues on the Academic Resource Center and Learning Commons. New furniture is expected to arrive soon, and students will be able to use the library at the beginning of the fall term. As you recall, the library is in a temporary location on the fourth floor of the Integrated Technology Center, while the Learning Commons is on the second floor of the Coleman Center.
The Veterans Military Center project continues to progress on schedule. Those who travel through the La Crosse campus may notice that the building is starting to take shape. Delivery for the new furniture is set and the facility should be available to use in late October/early November.
Work on the Wellness Center inside the Administrative Center continues. New equipment is set to be delivered soon, and the space should be up and running by the start of the fall term.
Those working in the Welcome Center may notice the roofing construction this summer. That project is expected to be wrapped up by the end of July.
Stay with the online News Center as more updates become available!