Western To Deploy A New Center For Veterans
Veterans have always played an important role throughout Western Technical College's history. Since World War Two, Western assisted veterans returning home from war to successfully transition back into the workforce.
That work continues to this day. Last year, Western served 879 military connected students. Veteran students had an average GPA of 3.0 and a graduation rate of 82 percent.
But the challenges veterans face when returning to civilian life are unique, particularly when returning to a college setting.
"Military affiliated students have a unique set of challenges in higher education," said Jackie Helgeson, Veteran's Services manager at Western. "They often find it hard to connect with their younger classmates, and so they feel alienated and disconnected from the college. When a student doesn't feel part of the campus community, they are at risk for failure."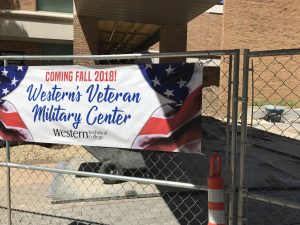 Western currently serves veterans with offices located on the second floor of the Academic Resource Center on Western's main campus. The center has staff specifically trained to help veterans navigate the process of returning to college. While the space is adequate for the staff, it was becoming more challenging to effectively support the growing number of military connected students at the college.
"The space did not meet the needs of students because there was no space for students to study together or interact with one another in any context," said Helgeson. "The small area we had could not manage the traffic of new students and the needs of the continuing students."
That need is being addressed at Western with the construction of a new Veteran Military Center, for which a groundbreaking ceremony was held last month.
The 1,400-square-foot center will serve as the central facility for veterans at Western, located between the Business Education Center and Academic Resource Center on Western's downtown La Crosse campus. The space will include a lounge area, meeting space, student resources, and amenities for approximately 1,000 military connected students served each year.
"Our veterans are successful, but we knew we still could do more to assure their success in higher education," said Helgeson. "That is why we put a lot of research into this place for a new Veteran Military Center."
The Center will have the look and feel of a USO, with a resource center, as well as staff offices. The resource center will provide key services, including the evaluation of their military transcripts for college credit and assistance with VA education benefits, many of which can be difficult for veterans to navigate.
The new center will not only have new features, but it will also be strategically located in the center of campus, visible to all Western students.
"Instead of being tucked away and out of sight, the new center will be in the middle of campus, demonstrating Western's proud commitment to serving military connected students," Helgeson said.
The project will cost $820,000, and is being funded cooperatively by the college, Western's Foundation, and private donations.
Construction on the project is ongoing, and is expected to be complete by this fall.
For more information about Veterans Services at Western, head to https://www.westerntc.edu/military-connected-services.