Steering A Path To Success
No one really wants to be there.
No, we're not talking about your typical math class. These are traffic safety courses, a little-known opportunity offered at Western Technical College for those who have found themselves in trouble with the law.
Western offers several options, including the General Traffic Safety School, Group Dynamics, and Multiple Offender programs.
For those in the General Traffic Safety School, the class is a way to reduce three points on a driving license. It is a 12-hour minimum course offered over two Saturdays, and is a way to help reduce vehicle violations and crashes.
The Group Dynamics class, however, is a program to assist individuals involved in their first alcohol/other drug-related traffic offense. It is a minimum of 21 classroom hours, and helps attendees make changes in their irresponsible drinking and driving behavior and attitudes. Depending on a driver's status, completion of the class can also reduce three points on one's driving record.
"The course focuses on modifying attitudes and behaviors that foster impaired dr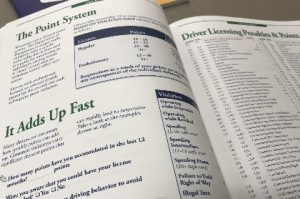 iving," said Mike, an instructor of 41 years at Western. "The courses emphasize strategies and techniques that assist individuals in changing high-risk attitudes and behaviors related to driving."
"Guiding people through making a positive change is very rewarding," said Becky, another instructor. "People develop relationships in the group, begin to look at their own behavior and attitude in a new light, and learn about the consequences to themselves and others of impaired driving."
For those participating in the class, the experience is eye-opening.
"It was very helpful and changed my mind that yes, I needed to take this class," said a participant. "When I started I thought I didn't need to be here."
"It's not what you would expect," said another. "There are all walks of life dealing with the same issue."
The multiple offender program is a 30-hour, court-ordered education course, plus a mandatory three-month follow-up session. The course is approved by the Wisconsin Department of Transportation, and encourages citizens who have had multiple traffic offenses involving chemical use to examine their habits, discuss their chemical use, and create a lifestyle which would encourage participants to always take into account the consequences of driving while impaired.
"When working as a medical examiner, I experienced first-hand the devastating impact of drunk driving," said Bob, an instructor of 16 years with the program. "I teach in this program to make a difference for those who have driven while impaired."
"Many good people make the mistake of thinking they can drink and drive and have not given thought to the implications," said Jerry, a 33-year instructor for the program. "I am passionate about the issue and hope the class will help people change their behavior."
While participants are court-ordered to attend the classes, many have positive feelings about the program, and believe the courses have made a difference in their lives.
"It's an open-minded support group," said one participant. "You can ask any question you're curious about and learn smarter ways to spend your time."
"I liked the environment created for the class," said another. "I didn't feel pressured or overwhelmed. We all had messed up. It wasn't a trial or shaming for our mistakes, just an insight to find where/how we went wrong, and find ways to keep it from happening ever again."
To learn more about the programs, head to https://www.westerntc.edu/traffic-safety-courses.