From a wholesome, small town life in Kendall, Wis., to career Army life, to budding professional—Troy Moten is a proud Western graduate with a story to tell. It's a story of resiliency, motivation, family, home, thinking outside the norm, and embracing change while maintaining one's roots with noble authenticity.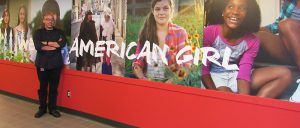 Troy is one of four boys who were raised by women—their mother and grandmother. Having women for role-models is definitely not a bad thing, in fact, it has imbued Troy with a caring, balanced, and practical approach to life that has served him well. Life in Kendall was an easy place to be a kid, but proved challenging to be one of a sparse handful of non-white school kids. Standing out while fitting in is an enviable talent and an elusive goal for most kids; fortunately for Troy, he had a popular older brother who paved the way for an easier school career and social life. So, nobody really thought twice about Troy's talent and love for cooking and food. Looking back, it was merely an honest interest that added quality and pleasure to the household. But thoughts of making a living by cooking wasn't really in the small-town lexicon. Leaving home is hard, but the motivating truth for Troy was, "I can't stay here and become the person I see myself becoming" and "always have a Plan B."
Thoughts of what to do and where to go upon graduation left Troy feeling stifled and uncertain; this led him to see the army as a solid career move that would open many doors and make the world an excitingly larger place. The door he chose opened to a shiny world of technology, mechanics, and engineering which he welcomed with great talent, acumen, and enthusiasm. It wasn't long before an unfortunate setback altered his course. While on the army base, Troy had an accident and suffered a head injury that put him in a coma for three weeks. To this day, he suffers migraines, hearing loss, and seizures, which he is able to control through medication. The army no longer had a worthwhile place for Troy and he was placed on military leave. Home called him back to reassess and form a Plan B.
An overnight job at Target, Badger Corrugating, and helping to coordinate military funerals on a Fort McCoy team kept him busy for a couple of years before the answer came to him: cooking! As a disabled veteran, Troy was able to make use of the Vocational Rehabilitation and Employment that the army provides; he was able to pay for school. Troy enrolled in Le Cordon Bleu College of Culinary Arts in Minneapolis. As an engaged student that always added to the classroom discussions, he completed the 18-month program effortlessly—he loved it and made the Dean's list.
It's post-graduation and again Troy is struggling to find a place to be himself, a home. His first job in the food industry was at the award-winning deli and foodie destination, Surdyk's in Minneapolis, MN. Here, he had an impressive boss and learned everything by doing, it was a hands-on experience that proved invaluable. Eventually, it was time to go home and regroup. Home holds the answers, it always does—like a pilgrimage to the holy land, it's a worthwhile endeavor and always yields what is needed most. Close to home, Western Technical College's Culinary Management Program provided the perfect bookend to his Le Cordon Bleu schooling and augmented the hands-on experience he learned on the job. This time he flourished and left school with a degree, career inspiration, confidence, and the woman who he would marry, Chelsea. He met Chelsea in the culinary program at Western. They cooked creatively together. Troy remembers their final project at Western—an etiquette dinner that consisted of Cornish game hen, quinoa tabouli (still a personal favorite dish), and other challenging, wonderfully fussy and equally tasty dishes. Troy loved Western and its no-nonsense approach to education as well as the talented instructors who pride themselves in giving individualized student attention.
Through trial-and-error and a seven-year stint at UW-L's food service program, Chartwell's, Troy decided that he enjoyed commercial cooking over restaurant work. He and Chelsea then moved to Madison where he cooked for the University and gained even more experience with high volume turnover, pricing and budgets, and management experience.  One fateful, lucky day, he noticed that American Girl was hiring a restaurant manager and corporate chef. American Girl is a global company with Midwestern roots and charm. The small company was started by a schoolteacher in Middleton, WI in 1986, and is still headquartered there. At the time, it was something completely different and filled a gap in the market with smart and slightly rebellious quality content and products. Early American Girl dolls and the accompanying books feature girlhood in interesting and tumultuous historic times, often tackling controversial cultural topics and crises. The company was—and is—invested in creating strong, independent, and educated girls. Not fully understanding how huge this company is, its iconic brand, and how impressive landing this job would be, he applied. The rest is history, as they say. Troy got the job by displaying his trademark down-to-earth approach that is founded in respect, honesty, and openness—just the way he was raised in Kendall by his mother many years ago.
When asked about possible bragging rights, Troy points to the American Girl employee restaurant as his most impressive accomplishment to date. It's a casual and warm environment made complete with a modern layout and cozy fireplace. He manages the synergistic staff, does the ordering, pricing, creates the menu, and an ever-changing special du jour that often reflects the day's mood—soul nourishing comfort food like grilled cheese or elegant pork medallions in a rosemary mustard glaze are in the rotation. Fresh, quality ingredients combined with creativity are sure to please these lucky American Girl employees. Troy caters all kinds of meetings—no food theme is too crazy. He will soon be prepping for a fondue party in the IT department!
At this point in life and career, Troy states that "this is the absolute best job for me." These days, he no longer feels the pull of home quite so strongly; perhaps he finally has instilled a sense of place, a place he is supposed to be, a home he created, a path he followed, with people he loves. This is not to say that periodic visits home won't be an important part of his life. As Troy says "you gotta go home sometimes." His plan B is in the works, but as of the time of this publication, it's still a blank page with a header: Plan B?